We believe the best bread is worth waiting for.
After all, it takes patience, precision and love to make real bread in the tradition of a true artisan.
But it doesn't happen overnight…
At Sol Breads, we've been pioneering Australia's slow bread revolution for over twenty years.
Today, we are one of the few truly artisan bakeries in Australia.
It began in an unassuming garage in Brisbane's eclectic West End in 1997. Our original bakers had a simple idea: to re-think what bread can and should be.
So we mixed, slow-rested, handcrafted and baked our way to bring you the perfect artisan loaf.
No additives, no chemicals, no shortcuts.
Using only the finest stone-ground flours, wild fermented lavain and long fermentation times.
Without the encouragement of farming techniques which degrade the environment.
The result?
Bread that tastes better, feels better, does better.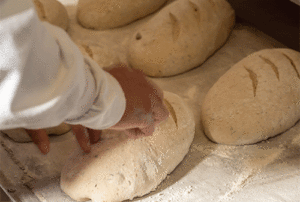 Every slice is a nutritious powerhouse, so you and your family can reap the health rewards with each bite.
And when it comes to the flavour, there's simply no comparison.
From humble beginnings, we've grown to serve our loyal customers; new loaves added, recipes honed, premises expanded.
Today, you can find our award-winning bread in two bakery cafés in the West End and Darra, also the location of our main bakehouse.
You can also buy our bread in (number of) top-notch stockists from Cairns to Byron Bay, Sydney to Adelaide and beyond.
Fuelled by our passion for bringing real bread to more people, Sol Breads will continue to grow.
Of course, one thing will remain the same. We'll stay true to our time-honoured artisan traditions.
That way, you'll always get a better loaf and nothing less.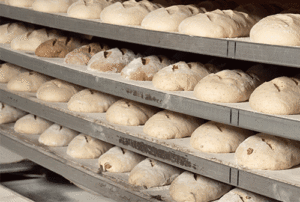 But don't just take our word for it – come and try the difference for yourself.
Our Baking Process
Not all bread is created equal.

Artisan is a term you see a lot in the food world these days. But it's always worth finding out the real story behind the label.
The name you can trust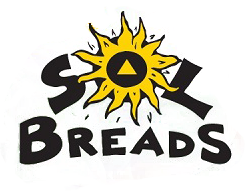 Foremost for Sol Breads is quality.
Quality in the care we give to our bread, our traditional methods, certified organic ingredients, and the way we closely monitor every handmade loaf to be certain it comes out of the oven perfectly.
It's a time consuming process, different from mechanical mass production. As with so many things, the key is care and patience – and lots of it.
Most mass-produced bread contains chemicals and additives to speed things up. The result is pretty average bread.
By contrast, our slow fermentation process gives the dough hours to develop. This allows the enzymes to react with the flour for an incredible depth of flavour, texture, and a myriad of benefits for your gut and digestion.
Of course, this detail of attention and quality has its price. But it also has its worth.
There's no match for the quality, flavour and wholesomeness comparing mass-manufactured bread.
Here's how to spot a true artisan loaf:
It's made by a person, not a machine.
The key ingredients should be flour, water, salt and yeast. That's it.
The variable shape of each loaf will show the care and attention of the hands that made it. A twist here, a groove there. The beauty comes in the difference.
And the aroma? Pure joy.
Visit a Sol Breads café or stockist and grab a real artisan loaf for yourself.
You'll wonder why you didn't try it earlier.
The power of Sourdough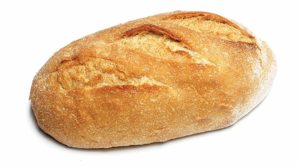 Ever had that bloated, sluggish feeling after eating standard bread? Maybe you're searching for bread that keeps you energised and fuller for longer?
That's where our naturally leavened sourdough can help. Here's why:
Your gut will thank you
Our dough rests and ferments for hours before baking.
This helps the bacteria to thrive on the nutrient-rich flour and mineral-rich salt. It also helps the flour and protein to break down.
The result is bread that's much easier to digest, boosts your gut health and enhances your entire immune system.
It's a nutritious powerhouse
We only use the finest certified organic wholegrain flour, a fantastic source of natural fibre, calcium, phosphorous, magnesium, iron and zinc. Stone ground to keep the goodness locked in.
Unlike standard processed flours, it doesn't need enriching. It's perfect the way it is.
Stone grinding is also slower. This protects the loss of precious vitamins, particularly vitamin E, which boosts your immunity, lowers inflammation and gives your skin a healthier glow.
Thanks to our long fermentation process, you'll also get the highest availability and absorption of all these goodies.
You might not know…
Unlike most other bread, sourdough has staying power.
You can take time to savour it – the longer production process means that it has a longer shelf life. But, just quietly, we doubt you wait that long to finish it.
But what about the flavour?
It's simple: artisan techniques do lead to a much more delicious bread.
Once you try it, you won't want to go back. Find your nearest Sol Breads stockist today.